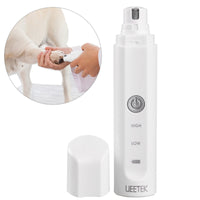 UEETEK Electric Pet Nail Grinder with Rechargeable Lithium Battery Painless
Description
For pet owners, every little care is necessary for their lovely pets. This item is a speed regulating nail grinder with two gears, which is designed and manufactued especially for pets of all sizes. It's comfortable to use, since it will not hurt the sensitive part of fingers as usual nail clippers. A rechargeable lithium battery is attached for convenient use.
Features
- Color: White.
- Material: ABS.
- Size: Approx. 14.7 x 3 x 3cm/ 5.79 x 1.2 x 1.2 inch (LxWxH).
- Comes with 2 speeds; Suitable for both small and big pets like puppy, kitty, golden retriever, etc.
- The polishing head is thick and durable.
-
Designed with low noise, avoiding scaring your pets.
-
Prevent pets' sharp nail from scratch your clothes or furnitures.
-
Keep a clean and neat nails for pets, and prevent them to hurt you by accident.
- Made of sturdy material, comfortable to grip and not easy to slide down.
- USB cable and rechargeable lithium battery is included for convenient use.