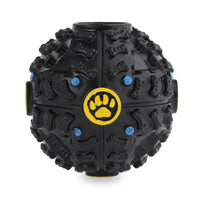 Trumpet Sound Leakage Food Ball Pet Shrieking Toy
Overviews:
Let the dog crazy toys! Fun and delicious! Surgical veterinary and canine psychologist recommended pet toys! 
Fresh drain ball principle:
Fresh leak does not rely on the squeeze ball, do not rely on batteries to maintain, mainly by air convection and magnetic effects of sound, so a dog can play it at least one year!
As long as the convection in the right direction, sphere will issue sounds strange, smart dogs generally play 3-5 times their own way will be able to know that there is probably a mystery, so it is a good way to develop the dog's intelligence!
Applicable Dog Breed: Universal 
Toys Type: Balls
Package weight: 0.120 kg 
Product Size(L x W x H): 7.00 x 7.00 x 7.00 cm / 2.76 x 2.76 x 2.76 inches 
Package Size(L x W x H): 12.00 x 11.00 x 8.00 cm / 4.72 x 4.33 x 3.15 inches
Package Contents: 1 x Trumpet Sound Leakage Food Ball