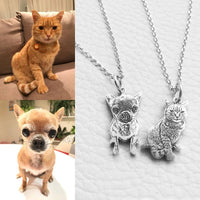 My Pet Necklace
Make my pet as my necklace pendant, just leave us an image of your pet!
Material: 100% 925 silver.100% handcrafted.
It takes about 7 days for making
Measures: length45cm(17.7inch)/ 50cm(19.6inch) / 60cm(23.6inch) /70 (27.55inch)
Please measure the length you want before place an order.
Great gift for you and your family.
How to order?
Provide the image of your pet.
Provide the letters you want engrave on the back(marks,fonts please see image)
Let us know which chain you want?(we recommend the No.1)
We will provide picture of the finished product before shipping.
Express shipping 3-8 days available,different country different price. please contact.